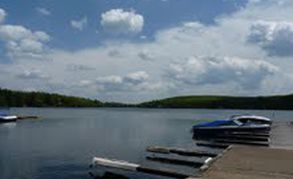 Lake Harmony is THE Power Boating Lake in the Jack Frost / Big Boulder Resort Area of the Pocono Mountains.
Access to 125 Acre Lake Harmony as well as beach, boat docks and tennis courts are included for Homeowners of Properties in Lake Harmony Estates. Enjoy Water Skiing and Jet Skiing in this gorgeous lake. After hours enjoy a meal at one of their infamous restaurants including Nick's Lake House, The Terra Cottage, Piggy's and more. Late night, enjoy the exciting club atmosphere of Shenanigans located right around the lake in quaint little Lake Harmony!
Click Here to View All Current Homes for Sale in Lake Harmony and The Estates!